Last time at TechEd 2010 in Berlin was a little disappointing. After taking a year off, Microsoft moved this time to Amsterdam.
Ok, I know we're not supposed to be sightseeing, but central Amsterdam is fun and easy to explore on foot. Another incidental but important point: Amsterdam in June is a lot warmer than Berlin in November. The weather was warm and humid under grey skies. The conference air conditioning struggled a little at times, so it was a little uncomfortable.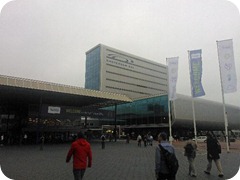 The venue was a little outside Amsterdam centre, but easily accessible by Metro. Finding rooms was, as always, a bit challenging, but by the middle of the week we had sort of worked it out.
I bet 90% of attendees tried to press the big buttons on the check-in screens. Turns out they weren't touch screens, you had to use the mouse. This at an event promoting Windows 8's touch screen abilities. Even more lame was that Wi-Fi was down for all Tuesday.
The bag was certainly nicer than 2010's. No T-shirt or other swag. This is the week that Google's developer event gave every attendee a new phone, a new tablet, and their new media streamer device. No Surface tablets or Nokia phones here. This is the first place I've seen anyone else with a Windows Phone- there were quite a few around. Three quarters of attendees had iPhones or Androids though. This is about as faithful an audience that Microsoft can get, and Windows Phone is in a minority. That's pretty bad for Microsoft and Nokia.
We'll get TechNet subscriptions, but they don't contain Visual Studio. For developers, who generally feel like second-class citizens at these events, it disappointing. Give us a cheap tablet with Windows 8 RC to play with, and we might be a little less sceptical about Metro. If we can't get enthusiastic about it, no-one will be. Why not DVDs with the RCs of Windows 8 and Visual Studio 2012 just to save us some bandwidth?
There were competitions to win Lumia 900s in the expo, but otherwise swag was disappointing there too.

Dinners were vast - the scale is always impressive. Good food, too.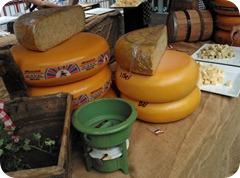 The delegate party was at the Amsterdam arena, and that was a pretty good venue. Plenty of beer, cheese, and other nibbles, and huge screens to show the football. The music was way too loud, though (we're old boring gits, not teenagers).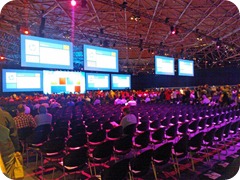 The keynotes on Tuesday and Wednesday heavily promoted Windows Server 2012 (Tues) and Windows 8/ metro (Wed). The key message from the 2nd keynote seems to be that Windows 8 scales uniformly up from Phone to tablet to desktop. Which is a different story to Apple, who have a clear distinction between iOS and the OS X versions (and MS's own previous CE/ full Windows split). A few glitches when the Metro gestures didn't work properly, which was amusing and disturbing.
My impression is that while it might work well on a small touchscreen, it's not obvious or easily discoverable for a desktop. The demo applications look nice, but most internal and third party business applications look like crap and there's nothing to make the average developer into a decent UX designer. Even properly designed metro apps use lots of whitespace, and have a low information density. Being chromeless actually makes it more difficult to understand what you can do (the Windows Phone IE has tabs, but I still haven't figured out how to switch between them- I think Windows 8 metro IE is the same). The limited choice of full screen or side-by-side docking is just inadequate for a lot of normal PC users.
There were some good sessions. Honestly I'm not sure I learned a lot new, but it most sessions were a good review and clarification of what's current (see my Azure posting). All the information is already on the internet, so a few sessions turned out to be quite boring. But it can be hard to keep up when searches bring up old blog posts that are way out of date, and the sheer range of things that are going on. Best session was Scott Gu's Azure introduction (some of the following Azure sessions were repeating the same information, and were quite dull as a result). Mads Kristensen from the asp.net team was great too, showing current Visual Studio work that only existed on his computer.
The last one was disappointing because there wasn't any new stuff coming out. This year there is, so overall it was worthwhile (thanks to my company for paying for it!). I wonder if these conferences will still be relevant much longer. I'm not arguing that we should get lots of free swag, but they do have to give a compelling reason to physically attend. apart from all the free beer, of course.